Wellness Coaching Pricing
&

Packages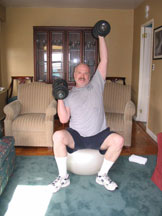 Working with a personal trainer is the best way to learn how to exercise correctly and to get the most out of your workout time. Wellness Coaching helps you formulate which health and fitness issues are most important to you and then set goals to accomplish those dreams. The combination of personal training and wellness coaching is a dynamic and very effective way to really change your life.
---
PERSONAL TRAINING / 1 COACHING CONVERSATION/WEEK
This package is a great way to start incorporating your fitness and wellness goals into your daily life. After an initial fitness evaluation, we will meet once a week for a personal training session. With your goals in mind, we will do a good all-around workout. We will establish your workout routine and answer any questions you might have about your exercises. Your half-hour coaching session will follow up mid-way through the week. We will meet on the phone to check-in on how you are progressing with your fitness goals for the week and to set new goals for the coming week.
$350
---
1 PERSONAL TRAINING SESSIONS / 2 COACHING CONVERSATIONS/MONTH
If you don't have the time to meet with a trainer weekly, this is an ideal solution. In this combination, you will meet with your trainer every other week to work out, establish your exercise program, and learn new exercises. Your half-hour coaching phone calls on the "off weeks" will be to check on your progress with your fitness goals, ask questions about your program, and make any needed adjustments to your goals.
$395
---
1 PERSONAL TRAINING/ 3 COACHING CONVERSATIONS / MONTH
This option is ideal the independent exerciser. We will meet once a month to workout, establish your fitness goals and design a program to make sure you achieve those goals. We'll check in with weekly half-hour coaching calls for the next 3 weeks. In these sessions, we can track your progress, make adjustments to your program, set new goals for the coming week, and discuss any health and fitness issues that are important to you. At the beginning of each month, we'll adjust your exercise program and your wellness goals to keep you moving toward optimum health.
$450
---
3 PERSONAL TRAINING/ 1 COACHING SESSION / MONTH
If you are a novice exerciser, this package is for you. We will meet three times a month for a good solid workout. On the "off week" we will have a half-hour coaching call about your fitness and wellness goals and how to implement these goals. This program is a great way to learn to exercise correctly and incorporate your fitness and wellness goals into your daily life.
Any of these combinations can be done in 1, 3, or 6-month programs.
Wellness Coaching Packages
1 MONTH/3 HALF-HOUR COACHING CONVERSATIONS BY PHONE: $250
3 MONTHS/9 HALF-HOUR COACHINGCONVERSATIONS BY PHONE: $675
6 MONTHS/18 HALF-HOUR COACHING CONVERSATIONS BY PHONE: $1170
PERSONAL TRAINING/WELLNESS COACHING PACKAGES
ONE PERSONAL TRAINING SESSION/
3 COACHING CONVERSATIONS/MONTH: $350
2 PERSONAL TRAINING SESSIONS/
2 COACHING CONVERSATIONS/MONTH:$395
3 PERSONAL TRAINING SESSIONS/
1 COACHING CONVERSATION/MONTH: $450
1 PERSONAL TRAINING SESSION &
1 COACHING CONVERSATION WEEKLY: $199/wk or $720/mo